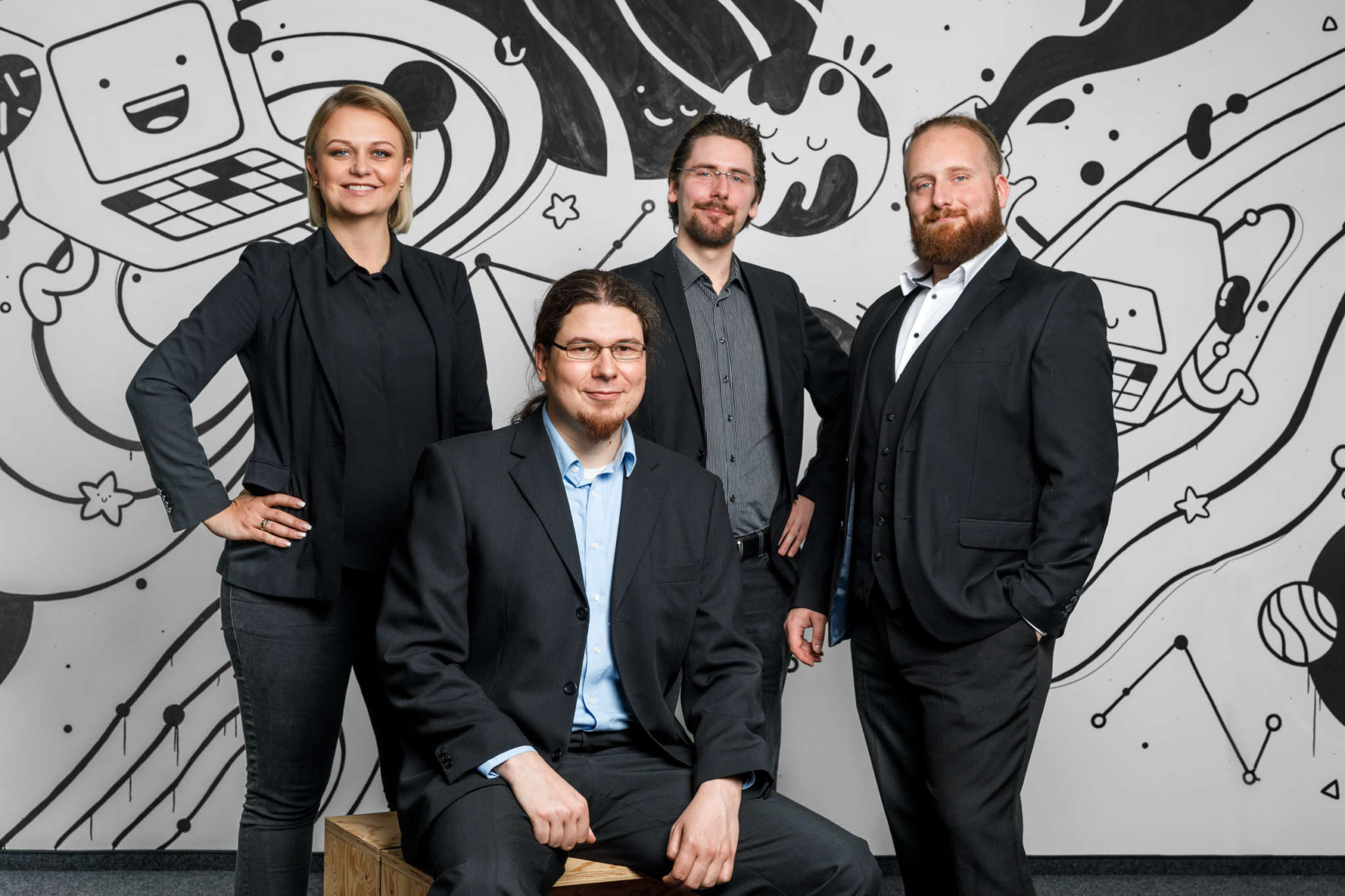 With LogCoin into the Future
Classical development work coupled with a start-up mentality: LedgerEngineers want to make logistics companies more digital with blockchain technology. The idea for their "LogCoin" platform came to them while browsing through classifieds plattforms…
"Rocking chair, vintage, 85 euros": On classifieds plattforms we buy good deals fast and forget that we usually have to pick up the product from the seller. What to do if this person does not live in a neighbouring town, but further away? Philipp Sprenger and his colleagues in the "Purchasing & Finance in Supply Chain Management" department at the Fraunhofer Institute for Logistics and Material Flow IML also dealt with this question. For the blockchain experts it was obvious to develop a solution based on the new Distributed-Ledger-Technology (DLT). What began a year ago with a fundamental idea has grown into a limited company called "LedgerEngineers", supported from the very beginning by the Fraunhofer Society. With the membership in the Digital.Hub Logistics, Phillip Sprenger has the feeling that their idea has come further by following the idea with an establishment of a start-up.
Everday Life shaped the Platform Idea
The establishment of his own company was not planned by today's CEO Sprenger or his colleagues Natalia Broza-Abut (CFO) and Dominik Sparer (CTO). As an employee at Fraunhofer IML, a career in science seemed to be the right choice. With blockchain technology, however, the colleagues at the institute are researching an important topic in the digital economy – the "Game Changer" of the future. Using the revolutionary invention for an everyday problem attracted the scientists. They developed a Platform, a Crypto-Token and an App: The LogCoin Platform, a blockchain-based Sharing-Economy-Platform for logistics, was born.
And that's how it works: Anyone who has bought a product online in another city does not have to pick it up themself anymore, but orders someone who drives the way anyway – the "Uber" principle. All parties involved in this supply chain are monitored, business processes are automatically initiated, and balanceable assets are exchanged via the "LogCoin" Token-Network.
Much Potential for B2B – Sector
The basic idea of the past – a B2C solution – had to make space for the for the B2B sector, as it was expected to have much more potential. They see applications in Track & Trace, Process Automation, Sharing Economy, Smart Payments, Proof of Origin and Data Exchange. The founders are therefore currently looking for a pilot customer for their platform. "For most start-ups, this is the biggest difficulty because – unlike long-established companies – they do not have access to the market and thus to potential partners," says Philipp Sprenger, who is well aware of the challenge. "At the same time, our project also has a tremendous dimension for the change of companies. However, there are still many concerns." Concerns for which Philipp Sprenger is well prepared in discussions with customers: "With our solution, administrative processes, e.g. in the transport of goods, can be designed efficiently."
Mixing Classic-conservative Approaches and Start-up Mentality?
It will take some time before the platform and app are ready for the market. Some classic development work is still ahead of the LedgerEngineers. "Maybe that's why our company doesn't feel like a start-up," smiles Philipp Sprenger. "We are very down-to-earth, eat currywurst, drink coffee – and we don't even have a foosball table either…" However, what makes them a typical start-up is their agile methodology and approach used in product development: step by step, driven by the desire "to produce something releasable on a regular basis in order to generate rapid benefits".
The founders are somewhat more conservative in their approach to their product portfolio: in addition to the LogCoin platform as a product, they offer services in the areas of "Software Engineering" and "Consulting & Training" – two business areas in which several customers are already being served. The development portfolio includes distributed-ledger-technology-backend-developments, frontend-developments (web applications, native applications, applications for operating systems like Mac OS, Windows, Linux) and the design of smart contracts. As a consulting partner for DLT-based projects in (financial) Supply Chain Management, the team helps companies to identify and evaluate suitable use cases and develops products and services together with the customer.