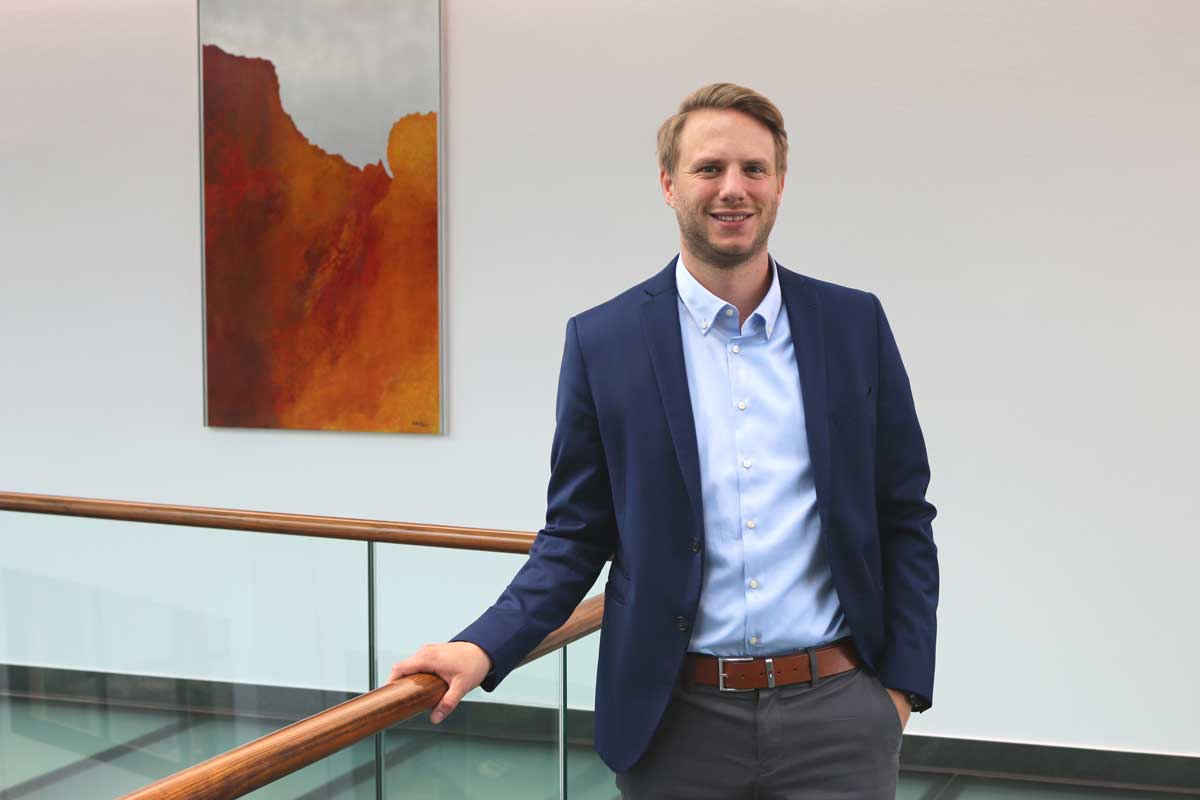 "We want to ride the wave, not have it roll over us"
"Is that really helpful, and are people willing to pay for it?" BG.evolution: Value creation junkies view change as an opportunity, serving as a digital sprint team for the Beumer Group at Digital.Hub Logistics.
Start-in BG.evolution develops products with future viability for the Beumer Group in the Digital Hub
Digitalization is in full swing. It is revolutionizing communication and the way we live and work. The Beumer Group views this change as an opportunity and has been developing a strategy for the company's digital transformation since 2016. "We have to ride this wave, rather than standing on the shore and watching what it carries with it – and have it roll over us in the worst case," Christopher Kirsch explains. He is Team Leader of BG.evolution. The start-in is an important pillar of the digitalization strategy and at home in the Digital.Hub Logistics Dortmund since September 2017.
Digital sprint team
"We see ourselves as the Beumer Group's digital sprint team," the 32-year-old says. In the Digital Hub facilities, the young four-member team of computer scientists and physicists is developing products to complement the portfolio of the Beumer Group, the technology leader in the production of intralogistics systems. According to Kirsch, the goal is to develop minimal viable products (MVP) and validate them with pilot customers to "upgrade" the existing product range. "We are talking to our internal experts and our customers and digging deeper. What are the needs? What are the ideas? What are the problems? That is where we come in."
Augmented reality optimizes customer service
The BG.evolution team has optimized customer service for the Beumer Group with the help of augmented reality (AR). "When customers calling the hotline had to describe a complex problem and discuss an error, knowledge and language barriers were frequent," says Christopher Kirsch in retrospect. Thus the help itself quickly became a problem. After all, the hotline employees did not have the situation described by the customer in front of them. The start-in examined various technologies, tested a selection of AR goggles, and used a model for three months in cooperation with a customer. Equipped with AR goggles, the customer was able to transmit their field of view to the hotline and make the problem visible to everyone.
Value creation junkies
"After we complete the internal validation for new measures or products, make a selection, and approach the customer, we ask two questions," Kirsch says. "Is that really helpful, and are people willing to pay for it?" When it came to optimizing the service situation by using AR goggles, both answers were clearly positive. That was the start. Now BG.evolution has been tasked to produce as many more minimal viable products as possible every year. The team always focuses on one thing above all: The benefit for the customer. "We are all techies," says Christopher Kirsch with a smile, "but first of all we are value creation junkies."
Just try it
The start-in itself gets value from working in and with the Digital Hub Logistics. Communication with other start-ins, start-ups, and experts in various disciplines along with joint workshops are what makes the Dortmund coworking space special for BG.evolution. "That benefits us a great deal," says the team leader of the start-in. His main recommendations for other young digital teams are to count on open and honest communication, and to offer results that can be experienced, thereby building acceptance. Christopher Kirsch: "Beyond that, you just have to try things. There really is no blueprint. You have to get away from that."