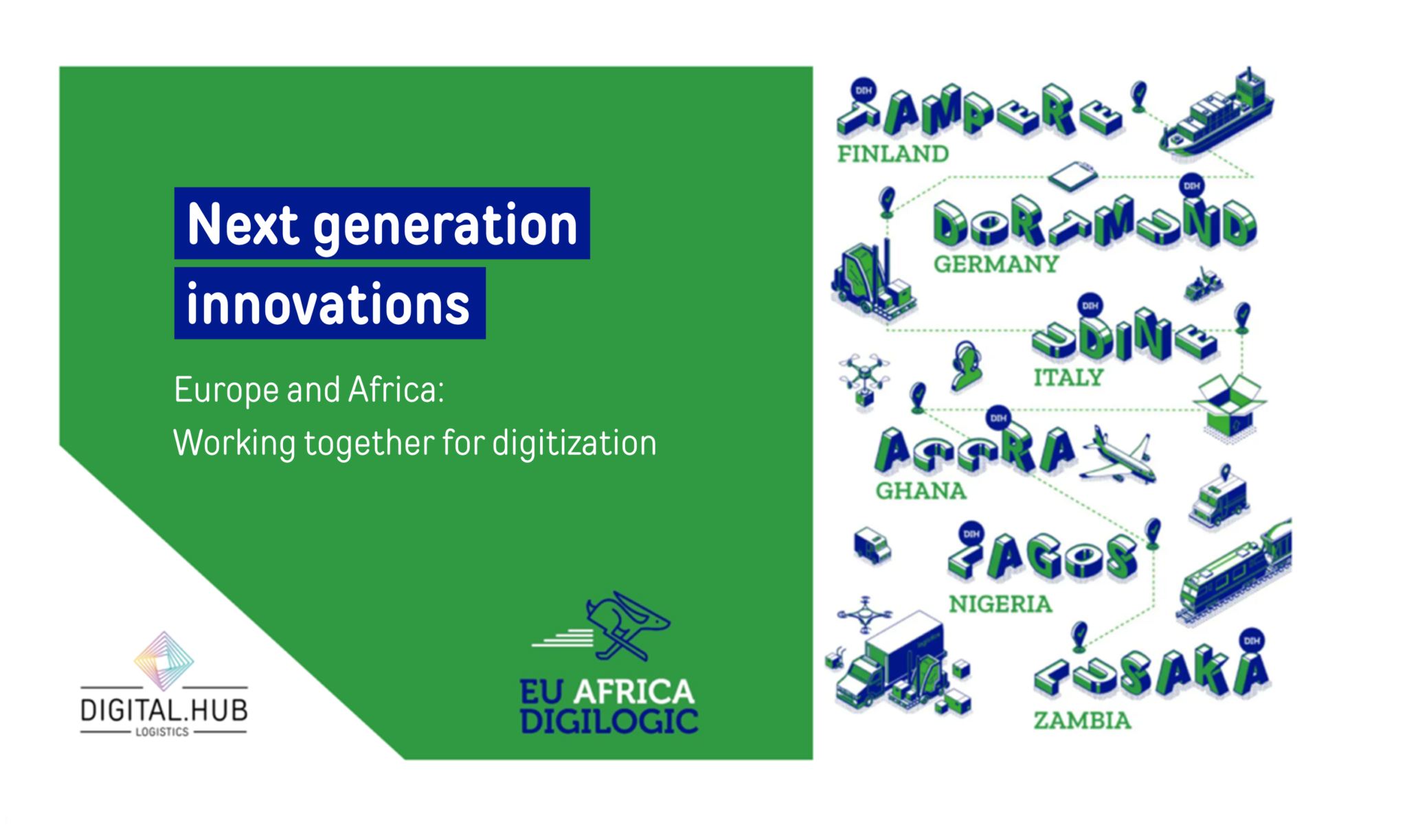 Next generation innovations
Digital technologies mean new opportunities for growth and prosperity: this is no different in Europe than in Africa. In the DIGILOGIC project, European and African Digital Innovation Hubs have now come together under the direction of the Digital Hub Logistics from Dortmund to share best practices and learn from each other – in the first pan-European-African network with a focus on smart logistics solutions.
_____________________________________________________________________________
BezoMoney is not just a product, but a "growth experience," is how Mubarak Sumaila, CEO and founder of the startup, describes his vision for "Africa's largest community-based digital financial institution." With a digital platform for savers, BezoMoney aims to enable social advancement, especially for the poorest. Supporting disadvantaged people in their home countries is what many young entrepreneurs in Africa are all about. The start-up Complete Farmer has even set its sights on nothing less than "rethinking agriculture in Africa and making it available to everyone," according to CEO Desmond Konney. The start-up Shopa is also stepping up to make the world a better place: Giving people in remote or less developed regions of Africa better access to everyday products. In addition to the social dimension of their companies, the three startups have another thing in common: the use of new, often disruptive technologies.
This makes BezoMoney & Co. prime examples of digital transformation in Africa, which is now also being driven forward as part of the DIGILOGIC project. The European Commission has provided funding of 1.9 million euros for the establishment of a new "network of networks" – the association of a total of five European and African Digital Innovation Hubs. "As different as the conditions and frameworks are in Europe and Africa: Both continents face similar challenges in shaping the digital transformation," says Thorsten Hülsmann, manager of the Digital Hub Logistics in Dortmund, who is coordinating the project. "That's why it makes sense to share best practices, learn from each other and build something new together that will then connect our companies and societies."
In recent years, the Digital Hub Logistics has made a name for itself in science and business with unusual approaches to innovation, including the concept of "start-ins." "Start-ins" are digital units of companies that work outside of their day-to-day business at their own location and also under their own name in a special innovation ecosystem (such as near universities, scientific institutions, etc.) and are supported by an innovation coach who accompanies and manages their innovation processes. The concept is successfully implemented for companies in the Digital Hub Logistics.
In addition, the Hub has launched a highly successful start-up competition that is now attracting more and more international applicants. Winning the first Champions Challenge of the European Digital Innovation Hubs (DIH) in 2019 once again confirmed the Dortmund-based company's Europe-wide pioneering role for digital innovations.
_____________________________________________________________________________
"We want to ensure that new technologies are equally
positively disruptive for Europe and Africa."
Thorsten Hülsmann, Digital Hub Logistics
_____________________________________________________________________________
At the Meltwater Entrepreneurial School of Technology, or MEST for short, in Ghana, people are pleased about the exchange with the innovation experts from Germany. MEST, founded in Accra in 2008, is one of the two African hubs in the DIGILOGIC project. The other is BongoHive, which began operations in 2011 as Zambia's first technology and innovation hub. The landscape of innovation hubs in Africa is large and diverse: more than 600 such incubators for technology startups – comparable to the hubs in the German dehub network such as the Digital Hub Logistics – exist there today. The young companies play an essential role in the digital transformation on the continent. While in the continent's (few) economic powerhouses it is primarily established companies that are driving digitization, in regions where the infrastructure is not yet as developed, it is startups in particular.
MEST is giving them a helping hand with a one-year training program, followed by support and mentoring from the hub network across Africa. This gives young entrepreneurs the opportunity to expand their competencies, train new skills and further develop their products. More than 600 entrepreneurs have been "trained" by the international team in recent years. All members of MEST become part of the Africa-wide tech community and gain access to the hub's network. "Digitalization is a booster for the economy and a gamechanger for the entire continent," says Prasanth Kumar, Director of Consultancy at MEST. "But digital transformation is not advancing at the same rate everywhere: depending on the region, we are in completely different spheres. Our activities are therefore not least about closing gaps and bridging the digital divide in Africa."
_____________________________________________________________________________
"In the Corona pandemic, digitization has become a
necessity to stay in business."
Prasanth Kumar, MEST
_____________________________________________________________________________
BezoMoney, Complete Farmer and Shopa are the best examples of this. The three start-ups learned their digital craft at MEST. With their companies, they already rely on modern communication technologies, on the use of drones or on the Internet of Things. Toyin Dania, DIGILOGIC project manager at MEST, now associates the partnership with Europe with the transfer of new technological knowledge: "The trend of networking with Europe is still young. And that's why we are all the more excited and interested to see which innovative and disruptive systems and solutions are state-of-the-art or currently being researched in Europe today. Even though Africa has made many technological leaps in the past, there are areas where we are years behind. That's why we are taking everything on board to better position ourselves." MEST Director Prasanth Kumar points to another aspect to digitization: "Beyond technologies, we're also about process design and strategies."
The visibility of new technologies and their effects, especially with regard to the unification and standardization of processes, is probably more evident in hardly any other industry at present than in the many functional areas of logistics, a key sector for the global economy. In Europe, logistics not only contributes almost 15 percent to European gross domestic product (GDP), but also has a significant impact on the quality of the manufacturing and service sectors. With the industrialization of many African countries and the growth of consumer markets, logistics has also become a key sector for Africa. In their report "Digitising Logistis in Africa," experts from the international think tank Briter Bridges thus also emphasize the importance of technologies that "prove to be not only a practical tool for reducing management and operating costs, but also an opportunity to fill market gaps – for example, the underutilization of existing assets such as trucks and cargo space."
Against this backdrop, DIGILOGIC is placing a focus on logistics in terms of content. This means that the Digital Hub Logistics can also contribute here the expertise of a logistics innovation ecosystem that has been well-rehearsed for many years and into which new partners are regularly admitted. Globally renowned partners of this network are the Technical University of Dortmund with several logistics-related chairs as well as the Fraunhofer Institutes for Material Flow and Logistics IML and for Software and Systems Engineering ISST. In addition, there are also the many enterprise labs, initiatives and large-scale projects at the science location Dortmund, in which new technologies are also developed, tested and transferred into practice – from cloud computing and big data to augmented and virtual reality to machine learning, artificial intelligence, blockchain and intelligent transport systems. The innovation ecosystem features join-in and support services for corporations, midsize companies and startups. "Whether in Europe or in Africa, the issue everywhere is to ensure that new technologies actually make it into the economy," says Thorsten Hülsmann. "Our partners are now ready to accompany the deployment of new digital systems in the African Union and, in doing so, also to absorb the much-vaunted agility and pragmatism of young African entrepreneurs."
One of the strengths of the Dortmund innovation ecosystem is that all logistics solutions are always developed with a view to current economic, ecological and social challenges. DIGILOGIC experts say that smart logistics can have an impact on many levels, particularly in Africa: geographically, from last-mile delivery in the city to regional and cross-border trade, and from freight shipping to supplying remote inland areas; economically, for small agricultural producers, informal traders and large-scale industries; and socially, through the direct and indirect creation of jobs. Thorsten Hülsmann: "Our concept of logistics is broad: In addition to intelligent transport, it also includes, for example, networked production logistics, optimized intralogistics or predictive maintenance, which is of particular importance in Africa." These are precisely the areas that are also critical to success for international investors and companies that want to get involved in the growth market of Africa.
At the same time, the Digital Hub Logistics is working intensively on the structural requirements and framework conditions for European-African cooperation. "Technologies are changing all of our lives, but will new technologies also benefit African countries?" asks Hub Manager Hülsmann. As part of international expert panels, representatives of all the Digital Innovation Hubs involved – in addition to the Dortmund Hub and the two African Hubs, the Finnish Digital Innovation Hub Tampere (VTT) and the Digital Innovation Hub Friuli Innovazione (FINN) from Italy – therefore explored the challenges and opportunities of digital transformation. Many of these are no different from those in Europe and the rest of the world, but some are specific to the continent. The continent's disjointed nature, for example, makes collaboration and exchange across national borders difficult. Many countries do not even trade with each other. The level of corruption and bureaucracy is appalling. Last but not least, there is a need for massive investment in infrastructure: be it transport routes, power grids or even the Internet. When it comes to digitization, however, the meta-topics that Europe is also currently addressing – such as connectivity, data security and data sovereignty – are at the top of the agenda in Africa.
_____________________________________________________________________________
"Young people in Africa are embracing the digital world, they say.
Our partners in the region are looking forward to working with us to
develop and make available further knowledge and tools."
Darja Kramer, Digital Hub Logistics
_____________________________________________________________________________
In contrast, the DIGILOGIC project partners identify technologies and education as enablers of digital transformation. The experts see e-commerce and electromobility as two areas that will drive growth. Africa's resources – for example, fertile soil, raw material deposits and the sun – can also be used to set the course for successful development. In addition, awareness of education is growing on the continent. Initiatives by regional chambers of commerce or local business development agencies support projects by young entrepreneurs with individual programs, even unbureaucratically.
However, the greatest asset for digital transformation is people, especially young people: By 2050, Africa will have 362 million people between the ages of 15 and 24. "Young people in particular welcome digitization, share information and want to learn: that's the mindset we're banking on: the will to change," says Darja Kramer, who oversees the DIGILOGIC project at the Digital Hub Logistics in Dortmund as an entrepreneurship specialist. "Through our innovation ecosystem, we now have the opportunity to provide both the knowledge and the tools to the next generation in Africa."
With numerous concrete activities, DIGILOGIC wants to ensure that people in Europe and Africa are equally connected to the new digital world of work. After all, in order to harness the potential of new technologies, skills need to be constantly updated. "Young Africans, however, often lack access to technologies or simply an environment in which they can be introduced to digital technologies," knows DIGILOGIC project manager Toyin Dania. She is currently looking for suitable participants throughout the country for the planned interactive e-learning platform, which is to be created as a result of the project. The platform will enable innovators and entrepreneurs to take advantage of qualification and training opportunities, network and find partners for logistics projects – an important element in ensuring that Africa can continue to live up to its reputation as an up-and-coming "entrepreneurial society. Toyin Dania, at any rate, will do everything in his power to ensure that the younger generation in Africa becomes the next generation of software entrepreneurs.
Young people like Mubarak Sumaila from BezoMoney or Desmond Konney from Complete Farmer – the pioneers of Africa's digital future.
More information about the DIGILOGIC project can be found HERE.

This work is licensed under a Creative Commons Attribution-NonCommercial-ShareAlike 4.0 International License.